Non slip flooring for safety
At POS Contract Flooring we offer non slip flooring for many safety purposes and areas that rely on flooring to maintain an anti-slip surface even when wet.
Non slip flooring is essential for many buildings such as kitchen areas or spaces that often become wet such as pool changing rooms, children play areas, or any other flooring prone to becoming slippery that has higher foot fall. Non slip flooring is specially designed to minimise the risk of slips, trips and falls from occurring whilst providing a safe walking area for spaces with heavy foot traffic throughout the day
Benefits of non slip flooring
There are many benefits that come alongside installing a non slip floor to your room. Many of these include making your workplace safer and more maintainable for both yourself, staff, and visitors.
Durability and ease
Non slip flooring works well due to its high quality and ease of maintenance. They do not require a lot of cleaning time and are made to with hold the damage that can be caused by heavy items falling or being dropped to the floor, such as gym equipment.
Safer environment
One of the main benefits of installing our safety flooring is that a room can become significantly safer for those who are utilising the environment. In a space where children may be running around or people are walking through wet patches on the floor (such as a swimming bath changing room), its important to have slip prof flooring in place to prevent accidents from occurring.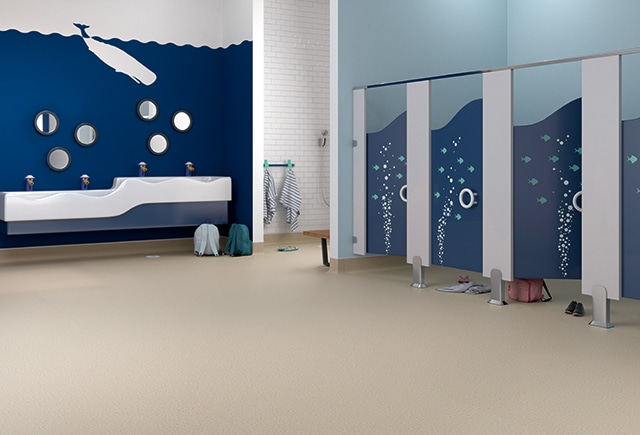 Reduce workplace Accidents
Many workplace accidents are caused by slips. By having non slip flooring in your workplace, this can increase the safety of you staff whilst preventing you from making a loss due to staff needing time off due to injury.
Multi-Purpose
Here at POS Contract Flooring our flooring is multi functioning meaning it works in the majority of work sectors including, restaurants, kitchens, gyms, medical clinics and many more. This makes our floorings perfectly interchangeable for any business sector.
If you are interested in having a non slip flooring for your premises, please get in touch with us today for a quote. We have a wide range of colours and styles to ensure there is a flooring to suit all businesses.