Here at POS Contract flooring as part of our commercial flooring we offer real wood flooring for offices. We pride ourselves not only on our expertise during installation but the quality of materials used for your flooring. Our commercial wood flooring is no exception! You can be assured of the quality, durability, and sustainability of the office wood flooring. The way in which the wood flooring is laid is in a modular design. This means once you have chosen between tiles or planks, the floor will be made up of those tiles or planks resulting in the ease of being able to replace on tile or plank if they become damaged. Saving on cost as the whole floor doesn't need to be replaced potentially just a tile or plank.
What is commercial wood flooring?
Solid or engineered, commercial wood flooring is not too dissimilar to the ones installed in residential properties. It can be the perfect solution for a range of commercial properties i.e., museums, gyms, pubs, offices and large public spaces. It is important to note you must base the decision on choosing wood flooring for your commercial property on the property settings. The factors that should be considered are footfall, likely spillages, and what furniture will be put on top of the floor. For example, an office setting would benefit from commercial wood flooring with high footfall carpet would wear down very quickly, spillages would be easier to clean up off wood and can easily move chairs and other pieces of office furniture easily.
Different types of wood
Oak is the go too wood for solid commercial wood floorings, due to the fact oak offers a variety of width options. However, oak is not the only type of wood that can be used for office wood floorings, Cumaru and Wenge are becoming more popular in recent years. If the commercial space you are looking to floor is in an area of significant humidity / dramatic temperate change and has a high footfall Cumaru or wenge might be more useful.
Cumaru is the more common out of the two, they are both exotic woods and naturally durable however cumaru comes in a broader range of natural colours. You can decide on a reddish/brown colour all the way up to a golden tan colour. A fact to know about cumaru wood after time the flooring will age to a natural silver/grey patina.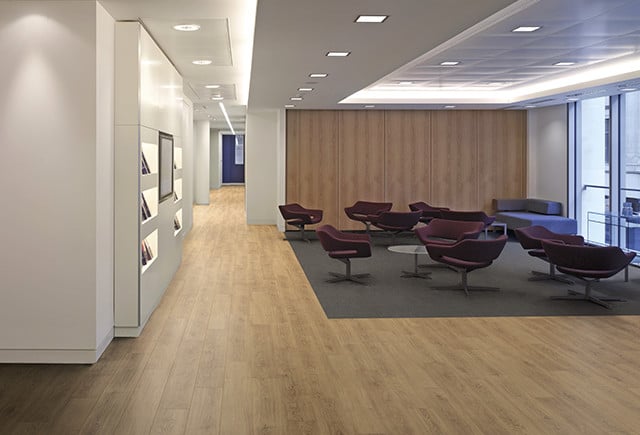 Benefits of choosing commercial wood flooring
Why choose commercial wood flooring? In a commercial setting, wood floorings have become a showcase feature worldwide in offices, restaurants, and hotels. If you're after a natural durable flooring solid wood flooring is the perfect fit. Office wood flooring is a worthy investment, although the initial price may be higher than carpet or LVT the maintenance and lack of need to replace will save you money in the long run.
Benefits
Wood flooring is timeless and won't ever go out of style.
It is very easy to clean and maintain, if the floor gets scratches and scuff marks a simple varnish will help get rid of the marks.
Wood flooring has a long-life expectancy meaning it will be more cost-effective than carpet.
Your commercial property will have better air quality. This benefit if often overlooked but wood flooring doesn't trap dust or air pollen improving the air quality.
Safety is a key benefit to solid wood flooring. Many studies have shown wood has the ability to stop the growth of harmful bacteria and kill it when it comes into contact with its surface
Wood flooring is versatile and comes in a variety of designs. You can choose from different types of wood, variations of colours patterns and grains.
It has been recorded that having a wooden floor within the commercial property increases the properties value.
It also offers the ability for zoning in an office. If your office is open-plan, you can get wood flooring in different tones patterns to help guide the office into 'natural' zones that are dedicated to specific things i.e,, meeting rooms, kitchen break out spaces
To enquire about our office wood flooring options get in touch today
Email: enquiries@pureofficesolutions.co.uk | Phone: 01962 468 668 | Contact form